Especially Curated For You
BIYAYA COLLECTION LAUNCH 17/07
Pinas-Sadya: Purposeful Joy for a Generation of Proud Filipinos
The story of Pinas Sadya is your story. It is about love of country, pride in your culture and the joy of being able to call yourself Filipino.
Our products are consciously designed in small batch production, using local weaves, incorporating hand beading skills of the Tboli Tribe of Cotabato, Bagobo Tribe of Digos and homegrown community of weavers in Pandi Bulacan, We proudly make each item with a purpose of bringing joy to the receiver and sustainable livelihood to the community who makes this happen.
Pinas Sadya is the story of the Philippines.
Thank you for being part of it. Daghang salamat sa suporta.
Skeeter Labastilla-TurgutCoFounder/CEO. Pinas Sadya Community Inc
Our New Collection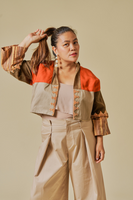 PINAS SADYA PODCAST
PINAS SADYA: Your Authentic Self
What makes you YOU? How do you identify as a Filipino, wherever you are in the world? In our 20s we search for belongingness, approval and validation and in our 30s we search for our identity, purpose, our authentic self.
This podcast is about realizing that you are Pinas Sadya— born with joy, intent and purpose. Sadyang ikaw. Wala kang katulad, saan man sa mundo.
Hosted by Skeeter Labastilla-Turgut.